Good Grief ! It's been a while since I've done a REAL entry.
Halloween Eve I was doing dishes when I was startled by someone on my deck. Hmmm? A man I went out with 4 years ago, another George. He had a g/f at the time and had intentionally left out that little detail when we were together. After dating a month or more, we were at a Christmas party at a friend's house. Across tha BayI saw a red car pull up to his trailer. When he disappeared I asked someone who that was and was told, "Oh, that's his g/f".
It was no big deal, he always had a lot of drama going on which kept me at arms length. Too much to worry about for my liking & hardly worth it, in my opinion.
Then he came here to this RV Park about 18 months ago. Said he was driving by and just stopped to see me. After a little visit he asked if could call me. Or if I would call him? I don't remember. I knew my number had changed since our dating days and that day I deleted his number from my cell phone hoping not to hear from him again.
So do you think he has changed? Nooo...I heard about his newest surgery, his turmoil with the "girlfreind, Laurie", who he claimed he hasn't seen in 6 months, and about some "dissing" of the people we used to hang out with. He wanted me to go out that evening to some a bar on the Anclotte River "where "everyone hangs out". Only no one was around that night because they were at the Breast Cancer walk in St Petersburg AND he didn't feel like being alone.
No I didn't go. I didn't want to be rude and I didn't want him in my house. So I insited that the dog need a walk. After listening to his woes, I told him that I had things to do that evening and no thanks I wasn't going out. I did have things to do. It was Samhain Eve & I need to see if I could find someone to take me to the polls for early voting. He asked me out for the following weekend, Friday AND Saturday night.
I told him to Email me to confirm. And as it turned out I really couldn't see myself dealing with this man at all, he wasn't wven good comapny. In my Email I told him I wasn't interested.

Most of you may remember when Jasmine, my Maltese, was so ill last July and the Vet I took her was so rude. I did decide to pay him $10 a month. Apparently, he is not happy with that. I received a letter from the office saying that he is going to close my account, unless I pay the remaining $100.00, and to send the account to collections. I was thinking of sending him a letter saying that if he hadn't been so rude he would have had his money the next week when I got my disability check. But, if he does take me to court, which I doubt because it would cost him more out of his pocket than I owe, I don't want it in writing that I was holding back money maliciously.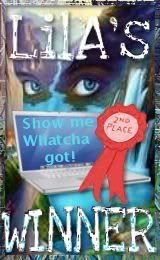 I did get a super "sweeet" award yesterday after entering one of my graphics in a weekly graphics contest. My animated graphic came in 2nd after being voted on by it's sixty some memebers. I'm elated. This group has group members whose graphics I've admired since I started in JLand a little over a year ago.
The change in my Journal is because I would like to add graphics that are larger than 400 pixels wide. I was told I need to stretch the template. I see where I button to click to expand the sidebar, but don't seem to be able to find it for the main body. With all the playing I've been doing I decided to try with just a white backgound until I get it figured out.
** I think I found that button!!
The graphic below is also one that I did. I think I'm starting to get the hang of this