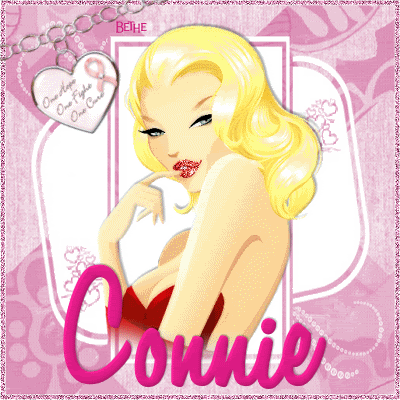 One before Breast Cancer Awareness month is over
I am really trying to journal a little more often these days. You know, I like the word "Journal" better than "Blog". Do you all know where the word Blog comes from ::yep, me, Miss Smart pants is back!:: It comes from the 2 words Web and Log put together. Web log, Weblog, Blog. I still prefer to think of my place as an online diary though. Since that is really what I use it for. I go back and read my entries (and sometimes cringe) to help me recall incidents that happened. Like that incident last February with Art. Yes, that is his REAL name. Last time I mentioned him I changed his name because I believed Sandy was trying to find my Journal online Which in not hard to d at all.
Anyway, I want to say Hello/ Bon Jour to the nice woman from France who left me a lovely comment. And Hello to Bill, if you still are reading of my adventures. Bill was a man I dated once or twice after "Neighbor Girl" had convinced me to try the personal's on Craig's List a couple of year's ago. Nice man who's wife had died the year before. And he had been encouraged by a co-worker to post and ad in Craig's List. I guess I was one of the few who wasn't not offering lonely men "servicing". Oh hell, call it what it is, prostitution.
The Tampa Bay Ray's and Philadelphia area playing the 4 th game of the World Series tonight. First Game, Wednesday 10/22, was won by Phillies , Game 2 Thursday - TB Ray's. Saturday, Game 3 Phillies. And Game 4 is on now.
Grrr, the Buccaneer's played this afternoon against the Dallas Cowboy's. Dallas won 13-9. So that makes 5 wins so far this season, 3 losses.
LOL! sounds like I've been sitting on my butt all day. Well, almost. The Series game wasn't over until about 2 am last night. I was up by 9, took the "Girl Animals" for a walk. Worked on PSP, then took another walk with Jazzy. Mau'i followed bit, but more SnowBirds are coming everyday & Mau'i purr-fers to stick close to home. She has actually found that the cushion on the wicker chair o the deck is a mightly comfy place to cat nap during the day. Have y'all noticed the "Kitty Widget" on my side bar? Run you cursor over, around, and under it.
I took Jasmine for another walk during half-time. When I stopped to say hello to SnowBird Annie sunning herself. As I stood there in the sun I mentioned how hot the sun still was. She said yes, but her hubby was out of town. So I helped her pull down the awning on their 5th wheel. I've put mine up & down so many times I can do it in my sleep. And HAVE when it has suddenly gotten windy in the middle of the night. Yes, & many a gust up of wind has blown my little nighties or T-shirt up around my waist : / Good thing it's dark & all the SnowBirds's go to sleep early.
My daughter sent me a birthday present. Five month's late! Sorry to say this as I never intentionally pay the "guilt card", but she had told me a few times since May that she had gotten me a REALLY good present. So I waited & waited. A couple of weeks ago we were talking on the phone and I said, "You know Nicci, I've been really depressed lately. Then I sounding pitifully sad I said, "I really need good birthday present". Again she said it was a good one. Well, I know I could have left it there, but when I was in Chicago visiting last Christmas I had walked around one Saturday & done some shopping on Broadway. The post office maybe 200 feet from the apartment. She had told me she didn't have time with school & work. So I said, "Ni, all you have to do is take Yampa (her Chocolate Lab) for a walk, go around the corner, take a right on Broadway, down a block & it's on the right". How's that for a heavy handed hint?
So the really goo gift was a GOOD one. It's this "TO GO" insulated tumbler the contains a stainless steel basket for loose tea. It IS really unique, works fabulously, and I love it! There were also several packages of loose tea's. Carolina Honey, Sangria, & the one I've opened Ginger Peach. In the spring/summer/fall, I drink Ice Tea in the mornings, Solar Tea. Twice this week the morning temps were below 70 so I had hot tea.
Here is the photo. Nicci gave me the Blue one.



Hugs & Blessings all...