Yesterday, Carol, who most of you know as Lazarai, Robin aka RobinGabster, and I met in Dunedin for shopping & lunch. Dunedin is a nice community with a Main Street of really nice shops. Not the usual tacky beach shops full of the same 'ol cheap junk. Some are antique stores, Celtic Shops, & some with Beachy signs and wind chimes. Many of them have wine tasting. And don't you know we were just in time for Happy Hour-10 am!

Gosh I need to drink more often. I was getting buzzed after a few little cups. The first "shot" Robin and I had was a Chocolate Raspberry Port. Mmmmm, I was intrigued : ) Doesn't it sound Luscious? And oh, it was!Then we tried a Kiwi Pear Ice wine, then another ice wine with had a Plum raisin taste. We were about to stop there until the woman opened a bottle called Orange Sunset. How could we resist? What I didn't notice, and Carol point out later, is that the woman opening the wines was drinking with us and usually pouring twice as much for herself behind the counter. LOL!


We wandered through some little shops. Yick- yakking all the way. Those 2 were mocking me because I had bought a pair of rose colored sketcher's the day before that happened to have a skull on the side. Seemed like every time we turned around there was something with a pirate theme and yes, skulls. Skull t-shirts, skull bracelets, skull hats, skull sunglasses, cutsy skulls, sexy shulls, creepy skulls, ugly skulls. I never noticed how "IN" skulls were. Nor would I have noticed except those 2 were teasing me about my new shoes. Then we went over to a place called Kelly's Chic-a-Boom for lunch.

The web site is kind of cool. Run your cursor over the shops and click Kelly's and you will see the patio where we had lunch.
*
Kellys, For Just About...Anything
*


Carol had an appointment to have her hair cut at a hairdresser on the same block. We hugged good-bye and I crawled up into Robin's Monster Truck. What do I see? She had skull floor mats, skull dangling thing from the mirror, and then she plugged in a night light thing in to the cigarette lighter. What else? A glowing SKULL!

We pulled off Main street and took a quick look at the Sunset Park where there Marina and Bon Appetit Restaurant is. Saturday is the Holiday Boat Parade. I've seen the night time boat parade with the boats light up with sound systems reveling carols.


We then headed north on Alternate 19, about 2 miles, took a right onto the Dunedin Causeway where I insisted she must see Honeymoon Island, the #1 beach in the country. We drove out the island road, we saw the fishermen waist deep in water fishing with long rod's, kayak's, sailboat's, and cars parked along the causeway beaches on our right and left. We approached the State Park entrance, asked if we could take a quick drive in to see the beach. The woman said No and it cost 5 bucks for the 2 of us for the day. robin asked if we could just turn around and I said yes, she is from Tampa and has to pick her daughter up from school. Truth, yes. And she cocked her head & said "Go Ahead". I insisted that we must put our feet in the sand and I think Robin was glad I did. We waked down the wooden walkway the winds through the Oat Grass where at the end was the bluest of blue water, & the sun glistening off theater. Robin took a few picture's of the beach water and wild life as I quickly looked for sand dollar's or some unique shells for Gabby. No luck. But, the pic's that Robin took reflect the crisp blues and whites of the beach.
You can see the picture's Robin took HERE: *The Yellow Brick Road*


I think she is hooked now!
Yes, Clearwater Beach is nice, so are some of the beaches of Tampa Bay. Honeymoon Island State Park is "old time" Florida with natural beaches and wildlife preserve. Robin said that she knew Michael would love it. So I hope she brings her hubby, and little dog, Princess.

Robin brought her camera & Carol talked the waiter into taking a picture. Cute guy, nice bod. Poor guy didn't have a chance to get away from us three. Carol did it again...closed her eyes.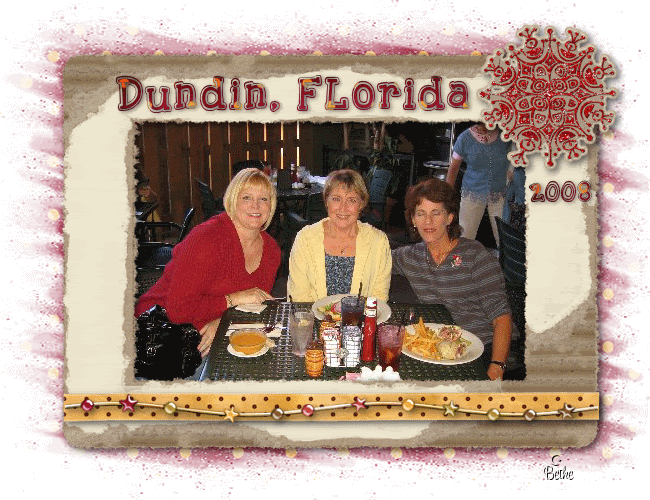 Or maybe she is winking at the waiter!!