It's Monday
and the results of another LILA "Show Me What You Got" contest are in.
I entered both of these.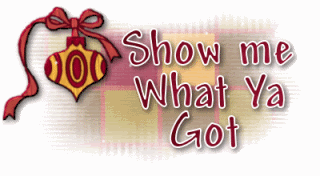 And Whahoooo!!
The one below got 3rd place. There are so many entries for this contest now-about 20. I was surprised it got votes because many in the group don't care for SAC.
Me? Most SAC I don't mind most SAC except "crotch shots".
Holy crap, it just dawned on me why! I see enough lady crotches when at work. Gee, I wonder how many that would be over a 25 yr nursing carreer?
Yikes!!


Snag or I can tag
Yes, I've been a bit competitive ::grin::
Maybe it's the only part of my Type A personality that continues to exist. I don't know.
Notice how well these graphics match my Blog Template?
The scrap kit we were given to work with is the same one I had used to create my Journal Background 4 weeks ago! This was not a good thing, as it took me forever to come up with something.
Everything I made looked like this template!
I finally got Nicolle & Marc their big Yule presents today. Nicci had mentioned she wanted a camera. When I asked Marc to find out if she ever got one, he whined "Maaaa, I want one". OK, that was easy shopping this year. I had picked up 4 glass ornaments at the Strawberry Festival last March. One for each kid, one for son-in-law and an extra for a g/f Marc may or may not have. Or to keep if he didn't.
I'll be making cookies and sending chocolates up to the kids in Chicago. Marc will graze on the cookies and chocolates I have here. And I'll be making cookies, or maybe fudge for neighbors.
Can you tell I'm stressed about this. NOT! I had enough stress when the kids were young and I was worried about how I was going to make a nice Christmas for them. I'd try, like I do now, to purchase 1 "big gift" and couple little ones. The funny thing was that no matter how little money there was or how little there was under the Christmas bush. It was all good to them. I think that they enjoyed the little brunch I'd put together more anything.